Dental Implants in Delta, BC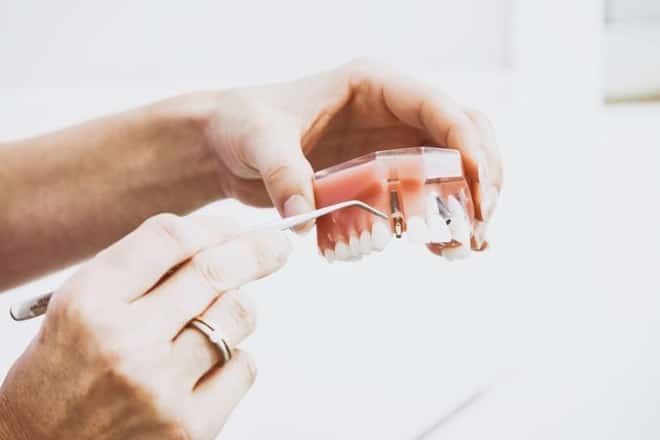 Dental implants are prosthetic teeth connected to an artificial tooth root made of titanium metal. The tooth looks and feels natural and the root is implanted directly into the jawbone. Dental implants can be used to replace one, some, or all of your teeth. They are securely anchored and feel just like natural teeth which is why many people find implants to be the best tooth replacement option.
Benefits of Dental Implants:
Look and feel just like natural teeth
Don't hinder your ability to eat anything you want
Easy to maintain—just treat them like all your other teeth
Permanently fixed so you don't have to deal with the inconvenience of removing them and putting them back in
Are Dental Implants Right for Me?
You will need to consult your dentist and have them examine your mouth to determine whether dental implants are right for you. Generally speaking as long as you are in good overall health and your jaw bone is not deteriorated, you are likely a good candidate for dental implants. Sometimes, after a tooth has been missing for a long time, your jawbone in that spot will lose density and will not be able to hold a tooth implant. In this case, your dental implant dentist may recommend a bone graft to make your jawbone strong enough for a tooth implant.
A tooth implant is appropriate for those who only have one tooth missing, those who need a full set of replacement teeth, and everyone in between. Dental implant dentures (dentures that are fixed in place by at least two implants) are a popular choice for patients who need complete dentures but want something that feels and functions more like natural teeth than traditional dentures.
Dental Implant Surgery Procedure
First, your dentist will do a full examination of your mouth and take X-rays to determine whether or not dental implants are the right choice for you. Dental implant surgery is usually done in multiple stages in order to allow for healing in between steps, although sometimes the first two stages of surgery are completed in one appointment, depending on the state of your jawbone and overall oral health.
During the first stage of surgery, dental implants is inserted into your jawbone below the gum tissue. Once the implant is in place, your dentist will stitch the gum tissue back into position. Usually after this stage of surgery, you will need to take some time for the jawbone to fully heal and integrate with the implant before proceeding to the next stage of surgery. However, your dentist or dental implant center specialist will let you know what is best for your individual case in terms of breaking up the surgery into different phases.
In the second stage of surgery, an abutment is attached to the implant. This abutment will work to connect the implant to the artificial tooth.
For the final stage of surgery, your dentist will make a prosthetic tooth that matches your natural teeth in colour, size, and shape. Once the tooth is ready and the gum tissue around the implant has healed, the artificial tooth can be attached to the abutment. It may take more than one appointment to properly fit the new tooth to the abutment.
Do Dental Implants Hurt?
Generally, dental implants are less painful than a tooth extraction. You can use local anesthesia to make the oral surgery easier if you wish, but for the most part patients report that having implants inserted is not particularly painful.
After the surgery, you may have some tenderness and mild soreness for a brief period. This pain can be managed with over-the-counter medications such as ibuprofen if necessary, but many people don't experience enough soreness to warrant this.
Care and Maintenance for a Tooth Implant
Caring for your tooth implant is similar to caring for your natural teeth. Brush and floss at least twice daily and be mindful of the fact that bacteria and tartar build up on artificial teeth just as much as natural ones, so keep proper oral health habits a priority.
Visit your dentist for regular checkups to make sure your tooth implant does not loosen and your bite stays properly aligned.
Dental Implant Cost
Like any dental procedure, your tooth implant cost is variable depending on multiple factors such as insurance plans and the extent of work a patient needs done—for example, full dental implants cost a lot more than just one tooth implant.
Your dental implant cost can be high and not necessarily covered by insurance, but it is a one-time fee, unlike other tooth removal and replacement options which can require multiple expensive maintenance appointments that add up to be as much or more than dental implant costs in the long term.
For more information on dental implant cost, process, and maintenance, contact us!